David Smith of the Guardian says Donald Trump is being eaten alive inside by his manic compulsions with Barack Obama.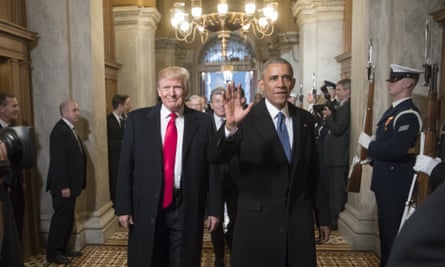 Barack Obama looked like a great president as he entered the White House in 2009
, with the kind of enthusiasm, energy and capacity to get things done as John F. Kennedy. Kennedy was struck down by a bullet, Obama with a bullet of a different name, Moscow Mitch McConnell. President Obama had the overwhelming support of the American people as the racist McConnell began to spread his game plan of a one-term presidency.
That didn't work as Obama won with another landslide against Mitt Romney. But, as was the case in his first term, he was dogged by Moscow Mitch, who convinced his Republican colleagues to support him in keeping anything Obama from happening, actually anything Democrats. With the Dems, that hasn't changed. The Oval Office has changed and it is the startling difference between two men, Barack Obama and Donald Trump, that is the subject of this post.
Donald Trump's obsession with Barack Obama...
David Smith quotes journalist, Jon Karl, as he observed the then president and the one coming into office. He thought of Trump as actually "humbled," out of sorts, awed by the situation, and definitely not in control of the room. Obama was turning over the torch in the classy way he had conducted his presidency, to his predecessor, who "seemed a little dazed" and "a little freaked out." These would be two of the earliest signs of Donald Trump's incompetency.
Then Smith comments
...
"But what became clear in the next three and a half years is that Obama remains something of an obsession for Trump; the subject of a political and personal inferiority complex."
Here, the why...
"Observers point to a mix of anti-intellectualism, racism, vengeance and primitive envy over everything from Obama's Nobel peace prize to the scale of his inauguration crowd and social media following."
Barack Obama criticizes Donald Trump's handling of coronavirus pandemic...
Obama criticizes Trump's handling of coronavirus...
CNN Politics says
Trump has been backed into the corner on his incompetence with the COVID-19 pandemic, so he simply reverts to his favorite subject, Barack Obama...
"With the death count from the coronavirus rising and its economic fallout deepening, President Donald Trump is trying to fire up his base and divert the national conversation by promoting a baseless conspiracy that casts his predecessor, Barack Obama, as the architect of a plot to subvert his presidency."
And you can always depend on
Jennifer Rubin, conservative columnist for the Washington Post
, to zero in on Donald Trump's real intentions...
"It makes zero sense, you would think, for President Trump to attack his predecessor, since President Barack Obama is the most popular politician around (next to his wife) — someone who instills in Democrats a feeling of solidarity, of nostalgia for decent leadership and of hope. Even those critical of Obama's presidency regard that era as akin to a Golden Age compared with the Trump calamity that brought us the Great Depression 2.0."
Donald Trump's absurd Obamagate conspiracy theory...
There's always a 'yeah, but'...
"And yet over the past week or so, Trump has rekindled "Obamagate," a made-up scandal that has become a bumper sticker for Obama-haters. Trump's claims are so thoroughly baseless and hopelessly convoluted that Trump cannot even explain it."
She also agrees with Jake Tapper's assessment...
"President Trump and his team are launching an unprecedented smear campaign against rivals, leveling wild and false allegations against critics in the media and politics, ranging from bizarre conspiracy theories to spreading lies about pedophilia and even murder."
Have we arrived at the pinnacle of Donald Trump's desperation, and are we dangerously close to the edge, or will this latest debacle simply fade away like all the others have because Republicans, plus an uncaring media, give him another free pass? Right now, I have to go with the latter.