Lobbyist to government job aids NRA agenda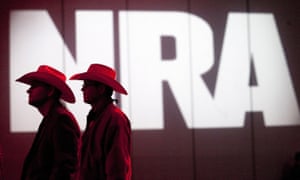 Benjamin Cassidy left the National Rifle Assn. for a job at the US interior department in the Donald Trump administration in 2017. It wasn't long before he called NRA head, Wayne LaPierre, and his minions to open the gates of the Interior to this organization. The Guardian has previously unreleased communications proving what...
"potent influence that industry lobbyists and conservative organizations enjoy at a government agency where many key leaders are former lobbyists and conservative activists themselves."
It's bad enough when it is just a Republican in Congress supporting the NRA, but when it is a government employee, from an agency like Interior, and who is a former NRA employee, there is no end to the damage that can be done. The Guardian reports...
"The NRA has made the most of this dynamic during the Trump presidency, leveraging its connections to shape policy outcomes and personnel decisions at the interior department."
And here is an excellent example...
"In 2017, for instance, Susan LaPierre, a prominent NRA member and the wife of NRA leader Wayne LaPierre, was appointed by the head of the interior department to the board of the National Parks Foundation, a congressionally chartered organization that supports park programs."
And the interior secretary, David Bernhardt commented recently...
"Respecting our second amendment is fundamental to our constitutional republic. We're expanding opportunities to enjoy hunting and recreational shooting on our wonderful public lands."
There is nothing wrong with the Hunting and recreational shooting on public lands, but the narrative just illustrates how Bernhardt and the interior agency are dominated by the NRA. Like all government agencies under Donald Trump's administration. And here's something I have first-hand knowledge of...
"Target shooting in the Sonoran Desert national monument in Arizona is controversial – it has damaged archeological artifacts, destroyed saguaro cacti, and harmed other natural and cultural resources."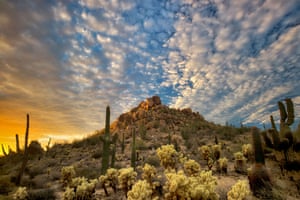 I cannot tell you how many once-beautiful, age-old saguaro cacti I have seen on the side of the road that are dying because some dim-witted gun nut used it for target practice. Pathetic!
READ MORE...